LESSONS AND COURSES FOR BEGINNERS TO ADVANCED
Karen is happy to offer lessons for complete beginners to advanced drivers for single, pair, team and tandem. She encompasses every phase of driving trials, private driving and other showing classes, coaching and BDS pleasure driving.
As well as hourly lessons, Karen will undertake 1 or 2-day courses, day clinics for groups of between 4 and 8 and lecture demonstrations. All courses can be tailored to meet your individual needs.
HORSES/PONIES TAKEN FOR BREAKING AND/OR SCHOOLING
All types of horses and ponies can be taken for breaking and/or schooling in any of the driving disciplines.
LECTURE DEMONSTRATIONS
Karen and her team of horses can be hired for Lecture Demonstrations throughout the UK.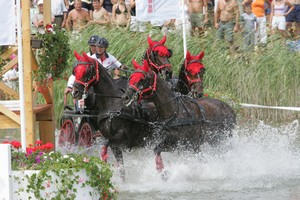 World Championship Kecskemet
---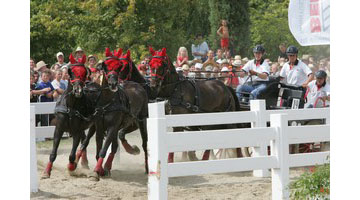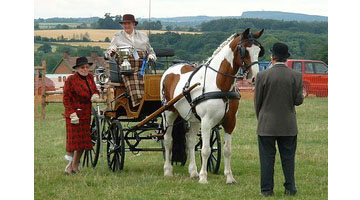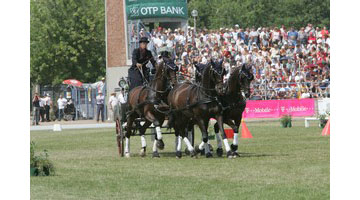 ---
COMMENTS FROM CLIENTS
BRITISH HORSE DRIVING TRIALS
"After only a few dressage lessons, the quality of my horse's work in all three phases has improved tremendously.…"

SHOWING:
"My horse's way of going has really improved after my driving lessons. At the last Show he won the Pleasure Driving Class and Championship. Many thanks for all your help.………"

BRITISH DRIVING SOCIETY:
"The mare you broke to harness for us is coping very well with BDS pleasure drives. We are really pleased with her progress……."

COACHING:
"Having sent my team of Gelderlanders to Karen for two weeks of schooling, I was amazed at the difference and improvement in the way they went…….."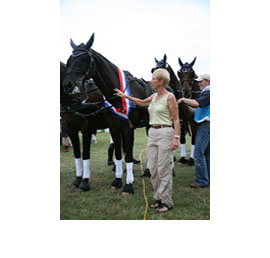 Muschamp Kangaroo retiring at the National Championship with Janet Scolley (nee Lorch)